China Daily, February 4, 2013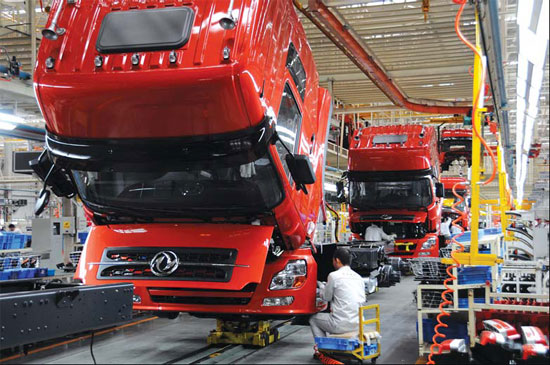 The heavy truck production line at Dongfeng's plant in Hubei. After a failed attempt with Sinotruk, Volvo is now partnering with China's second-largest automotive group. Peng Tong / For China Daily
Swedish brand says deal will make it global sales leader
China's Dongfeng Motor Corp and Sweden's AB Volvo recently agreed to form a joint venture to produce medium and heavy-duty trucks carrying the Dongfeng nameplate for sale in both domestic and overseas markets.
According to the agreement, Dongfeng will own 55 percent of the venture, while Volvo will pay about 5.6 billion yuan ($903 million) for a 45 percent stake.
The new venture, Dongfeng Commercial Vehicle Co, will have seven board members, four appointed by the Chinese partner and three by Volvo.
China's second-largest auto group, Dongfeng sold more than 3 million vehicles last year, including more than 205,000 medium and heavy-duty trucks, making it the biggest domestic manufacturer in the segment.
The group's medium and heavy-duty truck unit was previously part of its partnership with Nissan Motor Corp. The large Sino-Japanese joint venture also produces passenger cars and light-duty commercial vehicles.
The recent agreement calls for Dongfeng to buy out Nissan's share in the truck unit and transfer a 45 percent stake to Volvo.
Dongfeng President Zhu Fushou said the "strategic alliance" with Volvo will help the company quickly improve its research and development capability and accelerate its entry onto international markets.
"We will jointly develop new trucks, new engines that can meet the latest emission standards, as well as transmissions, all under the Dongfeng brand," Zhu said.
"Dongfeng and Volvo will share resources in suppliers, manufacturing and international sales to achieve the best synergy," he said.
The company said the new venture will retain the former production facilities in the central province of Hubei, the home base of Dongfeng.
Volvo and Dongfeng are actually not new partners. They already have a joint venture in Hangzhou, Zhejiang province that makes chassis for big trucks and buses. Dongfeng started the joint venture in the 1990s with Japan's UD Trucks, which was acquired by Volvo in 2007.
Both companies said their cooperation in Hangzhou works well, which led to the "further step" in the latest agreement on trucks.
Still pending government approvals, the transaction is expected to be completed in 12 months, according to a statement from Volvo, which said the partnership will make it the world's biggest heavy-duty truck maker in annual sales.
"With this agreement in place, we take a crucial step toward reaching a number of our key strategic objectives such as size and growth in Asia," said Olof Persson, Volvo's president and CEO.
"China is the world's largest market for heavy trucks, equivalent to the European and North American markets combined," he said.
Market data shows that sales of heavy trucks in China last year totaled about 636,000 units, the lowest number in the past three years.
LMC Automotive forecasts that with more investment likely this year, China's heavy-duty truck sales might see a 10 percent increase to more than 700,000 units. IHS Automotive projects a bounce back this year as well, but by about 6 percent.
In addition to Dongfeng, almost all major truck makers in China have formed joint ventures with foreign partners to improve their technological strength. China National Heavy-duty Truck Corp (Sinotruk) has partnered with MAN, Jianghuai Automobile Co with US company Navistar, and Bejing-based Foton with Daimler.
The new partnership with Volvo will help Dongfeng meet more stringent safety and environmental requirements and differentiate itself in the Chinese market with advanced technology and vehicle features, said Bill Russo, senior advisor of Booz & Co.
"More importantly, it gives both Volvo and Dongfeng the opportunity to develop capabilities that are going to be relevant to other markets, not just in China," he said, "There is mutual benefit."
Wayne Xing, veteran industry observer and chief editor of the China Automotive Review, agreed that "it's a good opportunity for both partners".
"Dongfeng needs a partner to achieve its ambition to become the third-largest commercial vehicle maker in the world, and for Volvo, there is no market other than China that can significantly increase its sales and profit," he said.
One of the world's leading truck makers, Volvo has been longing to participate in the vast Chinese market, yet its effort with Sinotruck was unsuccessful.
The joint venture established in 2003 made Volvo trucks, which proved to be too expensive for the market to accept. It was dissolved in 2009 following sluggish sales and disagreements over management.
After its painful experience with Sinotruk, Volvo has changed its strategy with the new joint venture to adapt to the Chinese market. In the new venture, Volvo agrees to take a minority share and produce local brand vehicles.
"They (Volvo) did learn that it's always difficult to control a partnership of any kind whether in China or anywhere else," said Russo at Booz & Co.
The company has also learned that trying to produce a Volvo truck for China is "not realistic from a market standpoint," he said.
Roman Mathyssek, head of global truck research and advisory at IHS Automotive, said that after the first joint venture, "Volvo will be more patient with Dongfeng, and it will need to understand that Dongfeng has an interest to expand to other markets as well".
"In our view, the most critical element for the long-term success of the venture will be how the two companies plan to divide the sales and responsibilities in other emerging markets," he noted.