Marketplace National Public Radio, April 20, 2009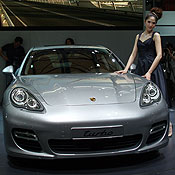 Despite its struggles, General Motors is planning to increase its sales in China. Scott Tong reports from the Shanghai International Auto Show on why GM and other automakers are zooming to the Chinese market.
Ford is showing off a cleaner transmission technology called Ecoboost. GM and Toyota display plug-in hybrids. But
Bill Russo
of consultancy Synergistics is watching the Chinese competition. Most major Chinese brands at the show are displaying their own alternative energy vehicles. And they have the financial backing of Beijing
.